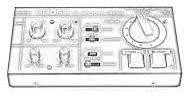 This 1 is really special to me, as the DR-55 Is the machine that I first learnt how to program way way back in 1980 as a 12yr old East London kid crazy about electronic music.. This thing blow my mind and was lucky enough to have a slightly older brother who was very advanced with electronic gadgets and he taught me the hex-decimal system we copied beats from Kraftwerk , John Foxx & YMO and many more with this thing. We often had it paired up with a Roland Sh09 and a few Yamaha portasound keyboards & it sounded great with a little bit of cheap spring reverb. At that time I had no idea that the knowledge and guidance from my brother Martin would serve to be a strong foundation to Electronic Music production and beat making in general . After a few years working with the DR-55 I was introduced to the next model up the DR-11o , OMG the claps were great and I loved the Graphic grid display (it was so easy compared to the lack of any display on the DR-55) + programmable Hi-hats , from there I moved on to using and owner most the Roland TR range of drum machines . it was not until around 2012 when a student of mine noticed this battered lil box with dials missing on my shelf , he asked what it was & I explained & he came back the next week with stories of finding people modifying them to get Pitch and decay control of the Bass Drum sound (telling me it could be warmer, deeper & longer than an TR808) . I thought he was crazy but he just kept nagging me and finally i allowed him to take it to his friends house to work on it ..
* THATS WHEN THINGS GOT REALLY CRAZY *
With just 2 extra knobs added to it .. the thing was a SUPER BASS BEAST .. i destroyed club pa's with that box and was RE-HOOKED  ON OLD GEAR AGAIN especially drum boxes that can be modded if you know how or somebody that does. Its an addiction/love affair with the sounds of my youth and the gained  knowledge of 40yrs beat making . Right now I own 2 Dr-55′s & 2 DR-110′s , both the Dr-110′s have been modded in different ways and 1 of my DR-55′s has an additional side box which handles trigger ins/volume out + Decay & Pitch knobs  ,
while the other Dr-55 is in mint conditions in the box never ever USED ..its just for me n my brother .
I Will Post Links to Manuals /Service Notes / & FREE SAMPLES OF MY SPECIAL DR-55 & DR110 below.